Love and Trouble
A Midlife Reckoning
Love and Trouble: A Midlife Reckoning / Claire Dederer
At 44, Claire Dederer was suddenly crying a lot and dealing with the intense feelings she hadn't experienced since she was a young adult. She finds herself digging through old journals, remembering her youth, and drawing connections to her current "inconvenient" feelings.
This memoir has been recommended to me numerous times, including during a workshop I took while I was reading the book (what Julia Cameron would call a synchronicity). 
Dederer's prose is exactly what I love in a memoir: sharp and clear. What Dederer does well, she excels at: the chapter "How to Have Sex With Your Husband of 15 Years" is a masterclass in writing about your sex life without making anyone uncomfortable. And on the whole, Dederer presents a clear story for a certain point of view; I enjoyed getting to know the narrator through her recollections of love and sex from childhood to early adulthood. I saw myself in many of her stories, and has a hardcore keeper of journals myself, I loved the excerpts from Dederer's own diaries. However, I found myself wanting more for context (many were only one sentence long) and could never figure out if there was a connection to the material that preceded (or maybe the diary entries were meant to speak to the next chapter? Regardless, I was lost).
The book sometimes devolves into what feels like a collection of creative writing exercises: the ABC's of Oberlin, not one but two open letters to Roman Polansky, a walking tour of Seattle's University Way circa the early 1980s, a case study. To me, these felt more like the scaffolding a writer gives herself before settling in to write the actual book.
And for everything that Dederer lays bare, there's something lacking. Throughout the book, Dederer hints at having lost her shit for 4 years:
"I lay in bed for a year; I cried for two. I got kissed or just chatted up or occasionally groped by men not my husband (not use of passive voice) and wrote them letters and had long phone chats with them. I blew deadlines.  I forgot appointments for my kids. I fell down on the job in every conceivable way: as a mother, a wife, a writer, a friend. I received furious or, worse, concerned e-mails from almost everyone I knew. I fucked up."
While the reader does see Dederer meeting men who are not her husband, the rest only gets a passing comment at the beginning and end of her memoir. The reader does not see her fucking up in the present timeline, and really not even as teenage-Claire. Perhaps this is something she felt like she couldn't (yet) write about, but I wish she had, as it would have added much more dimension to the story of her midlife reckoning. What does it look like when an upper middle-class, happily married, mother of two loses her shit? As a future middle-aged woman, I wanted more, the way I used to read pregnancy blogs long before I was pregnant myself.
Despite its faults, it's a compelling read. Read for its coming-of-age insights and delicate but truthful hand in portraying private moments.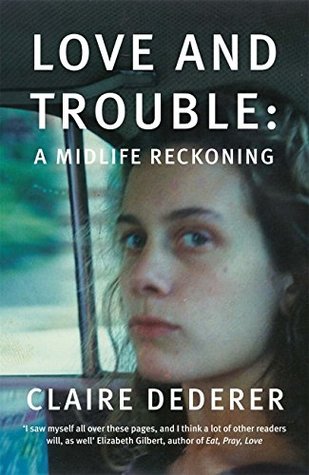 I heard the cicadas for the first time while taking out the trash after dinner. I know it's been a year and more but I forget until something comes around again. Here we are, I think, tossing another bag in the can. Joy comes in minuscule amounts: the sun warming my...