There are a lot of things to love about breastfeeding, but one thing I didn't particularly care for was just how much time I spent doing it at the beginning. A fellow Stroller Strides mama is expecting her second baby any day. I wanted to give her something I knew she would use. I remembered how much I loved having some essentials close at hand, like a glass of water and lip balm,  when I was in the middle of a marathon nursing session with my own newborn, so I whipped up this little breastfeeding nursing basket for her.
Here's what I included in the breastfeeding nursing basket:
a set of 3 burp cloths (handmade by me), perfect for wiping up spit-up, milk dribbles, and leaky boobs
newborn Gumdrop pacifiers, for replacing baby's human pacifier when he falls asleep nursing
hand sanitizer, to keep germs at bay
Lansinoh lanolin, because it heals everything from cracked nipples and chapped lips to baby's dry skin
a few Luna bars, because you've never known hunger like the hunger you experience at 3 am nursing a newborn
EOS lip balm, because nothing dries you out like nursing
hand lotion, see above
Mason jar tumbler (literally a Mason jar plus a Sip and Straw lid from Ball), since hydration is so important for keeping up a strong milk supply
As long as she has her iPhone handy, she should be all set for cluster feeding!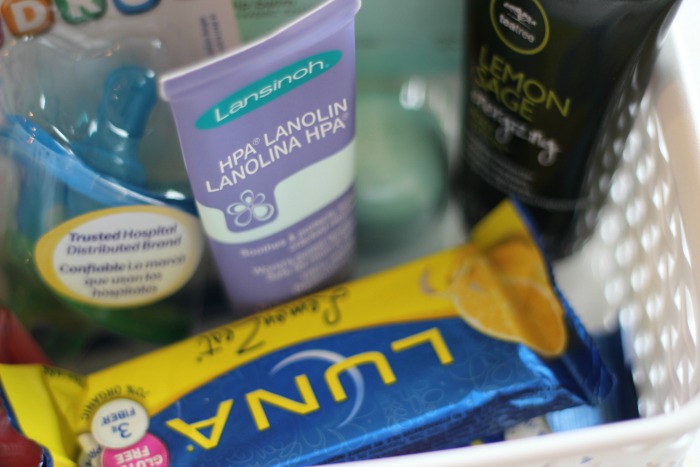 This basket was fun to put together; it might become my go-to baby shower gift. For a first time mom, I would also add a copy of The Womanly Art of Breastfeeding and Ina May's Guide to Breastfeeding, both of which are fantastic resources for any just about any breastfeeding issues you might come across.
Shop this post: