2018 was a good reading year for me. Possibly because it was a very rough year. Books were integral to my self-care, especially over the summer when my anxiety was at its peak. I'd often get in bed as early as possible with a big bowl of popcorn and read for a couple of hours, which calmed my mind enough to fall asleep in a reasonable time frame (most nights).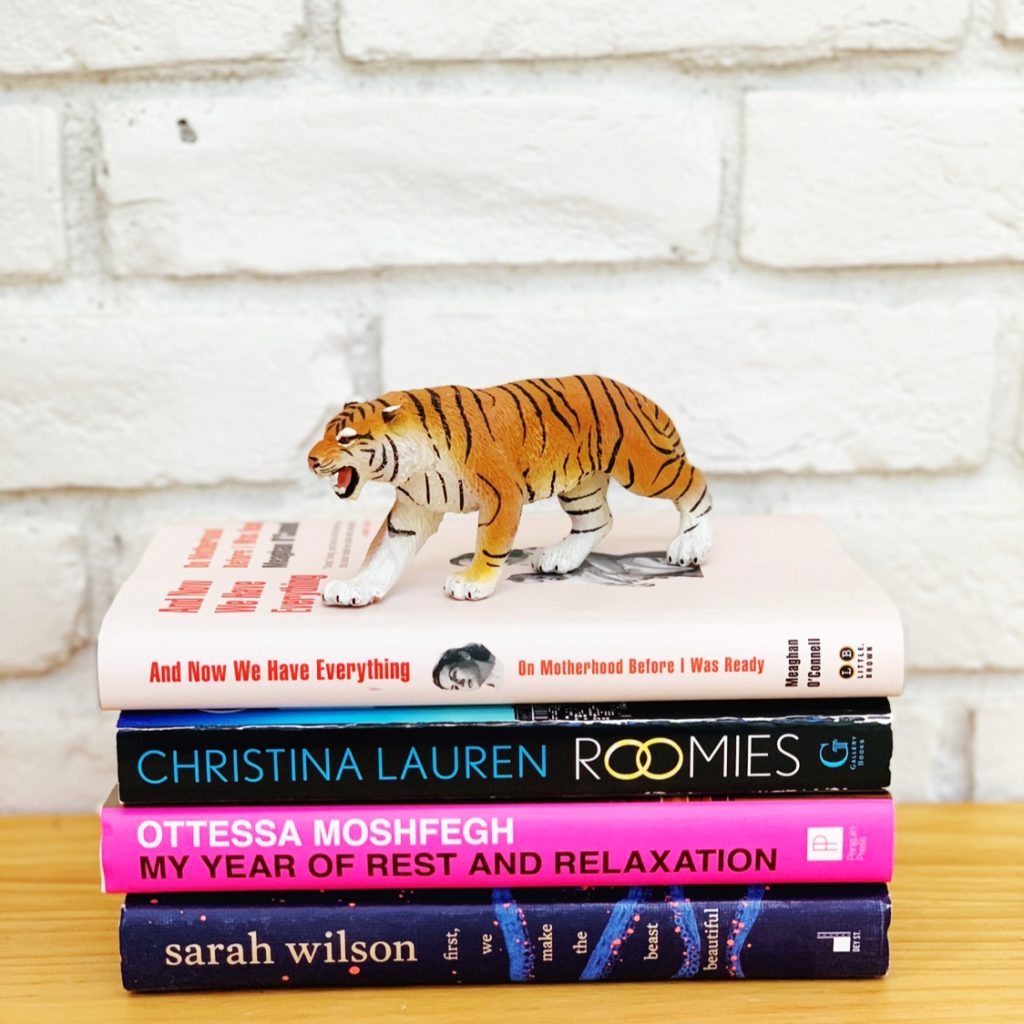 I had set a goal to read 52 books in 2018, which I did and didn't meet. I read two books this year that I enjoyed so much that I came back to them again and again: Roomies and The Hating Game. I think I read both of them at least 5 times, but only counted them once on my list of books I read.  So, I guess I met my goal? It's probably not an accident that both books are romances, the best escape for me! Unfortunately, Roomies by Christina Lauren and The Hating Game by Sally Thorne have both raised the bar on what I want from a romance novel. Both succeed, I think, in the realistic characters and the pacing of the story, as well as not falling on overused tropes. Also unfortunately (for real), I was disappointed by the two other books I read by Christina Lauren this year, particularly Josh and Hazel's Guide to Not Dating. The authors have some fervent fans but in my opinion it didn't come anywhere close to the magic of Roomies. I'm not sure I would pick up another book by them after being burned twice. Thorne's follow-up is due out at the end of January, so we'll see if she earns a spot on my "must read" list.
The most enjoyable reading experience I had this year was reading Charlotte's Web with my 5-year-old. I'd tried to get him interested in listening to a longer chapter book a few times over the last year, but he was never into it. I tried again in November, and he was hooked. It's been a very sweet way for us to connect and I'm looking forward to reading more chapter books with him.
I read one really excellent book of short stories, You'll Think It, I'll Say it by Curtis Sittenfeld. Sittenfeld is one of my favorite authors (since Prep!) and I will automatically order anything she puts out. I don't think her tone hits the mark with everyone, but if you enjoy something that's a little more wry and cerebral, you'll probably like this. There was a story involving a new mother that was so on the nose and will be familiar to most moms who have had a baby in the last few years. Reading this also made me realize how seldom I read short stories; I'm trying to make a point to read more in 2019.
I read a book that everyone was talking about last year- Goodbye, Vitamin by Rachel Khong. It's a quiet book about family and memories and I loved it and wished I had read it sooner.
Sarah Wilson's First, We Make the Beast Beautiful transformed the way I look at my anxiety. My copy has a million sticky notes in it because there was so much I loved and wanted to come back to. It helped me to see that rather than looking at my anxiety as a problem to be solved, something undesirable, I can see it as a gift that can be managed. Wilson is anti-medication, which might color how much you agree or don't agree with what she says. I think it's a must read for anyone living with mental illness, or anyone living with someone who's living with mental illness.
I read two really great motherhood memoirs: Body Full of Stars by Molly Caro May and And Now We Have Everything by Meaghan O'Connell. Both deal with having a less-than-rosy postpartum experience, which was also my reality during 2018. There's a glut of "motherhood" books right now and honestly I don't think I've read one that I haven't loved (Homing Instincts is particularly great, though not on this list because I read it in 2017). I've found all to be sharp and insightful and if I have to be stuck in early motherhood (which tends to involve lots of diapers and other drudgery), at least I have these super smart women to keep me company.
Another memoir I read and loved was Meg Fee's Places I Stopped on the Way Home. To be honest, I wasn't sure I was going to like it at all based on the subtitle, which reads a little twee to me. But Fee, who had a popular blog, writes about the ache and confusion of living your twenties and trying to figure out where and to whom you belong. It's also a beautiful love letter to New York.
The darkest book I read was Ottessa Moshfegh's My Year of Rest and Relaxation. I think I read someone else describe it as so dark it was funny, which rings true. Like Sittenfeld's short story collection, I think there's a more limited audience for this (which isn't a bad thing, of course). The unnamed narrator is deeply unsatisfied even though she should have everything going for her (she's thin, pretty, has a job at a hip art gallery, etc.). She thinks that sleeping through the next year of her life will solve all of her problems, which also sounded deeply appealing to me at the time that I read it (my then-9-month-old was still not on a consistent nap schedule or sleeping through the night; I was very tired). It's more literary than I would normally go for but I loved it.
My reading pace has slowed way down as I've gotten more wrapped up in my own writing projects. Sometimes I've been reading and knitting at the same time in the evenings, which of course slows down my pace on both (but I'm convinced I'm still making more progress than doing them separately). I'm currently reading Becoming by Michelle Obama and I doubt I'll finish it before 2019 (although I am falling in love with Barack a little bit– a future president who loves to read! Imagine!!– so maybe my speed will pick up a bit now that I'm to the part where he's in the picture). I'm not sure if I'll set a reading goal for next year, though it might be nice to do the Modern Mrs. Darcy Reading Challenge. In general I'm trying to challenge myself a little bit more. There's nothing like having a baby and the subsequent isolation and sleep deprivation to make you feel like the most unintelligent, least interesting person alive.
The full list of what I read is here.
Here's to turning more pages in 2019!