The Boys
E made it back to school, finally. There was a lot of painting with watercolors this week, plus a playdate with his buddy around the corner. On Saturday he woke up with a cold, so I think he was healthy for like 5 days? Why are kids such little petri dishes?
Meanwhile, L has entered the fourth developmental leap (if you've ever tracked a baby on the Wonder Weeks app, you know what I'm talking about). Basically, all the leaps are awful but this one is particularly awful because it's long (something like 35 days!). He did, however, fully commit to sucking his thumb this week, which is pretty darn cute if I don't think about the possibility that he won't give it up in two or three years. The upside is that he now puts himself to sleep even for naps (previously I was rocking him a long time and hoping for the best when I put him in his crib, he was already doing well after middle of the night feedings). He still likes his pacifier while we're snuggling in the rocking chair, but he'll usually find his thumb as I'm putting him in bed. So, I feel like we're kind of on the road to some good sleep, but really I'm just waiting for the day he goes down to one afternoon nap and sleeps for 12 or so hours at night without waking me up. He's also really angry that he can't roll from his back to his stomach and is trying incredibly hard to get there. Slow down, kid!
Exercise
I made it to Stroller Strides once, which is better than zero but still far less than I had hoped. However, I've also noticed that my milk supply seems to tank on days that I workout. I'm not sure if it's a caloric issue or a hydration issue or both, but until I figure out how to mitigate that I'm not going to stress as much about how many workouts I'm doing or not doing. I'd love to feel strong again, but exclusively breastfeeding for at least a year is by far more important.
The Artist's Way
I managed some version of Morning Pages 3 out of the 7 days, plus an actual productive writing session on a fourth day. I did not do any of the additional tasks (surprise?), nor did I go on an Artist's Date, though I did spend loads of time brushing up (heh) on my watercolor brush lettering skills after my workshop last weekend. I think I've finally got the hang of it and can usually produce something I like. Anytime I needed a 5-minute respite from parenting this week (which was… often), I'd letter whatever quote or song lyric that popped into my head (lots of Joan Didion and Sylvia Plath). I have a large sketchbook with watercolor paper that I bought last summer and used precisely one page in, so it's been perfect for practicing my new hobby (along with my aquash pen and Prima watercolors).
Reading/ Watching/ Listening
I finished Slouching Towards Bethlehem, which I started over the summer (the wonderful thing about essay collections: being able to come back to them 8 months later without being completely lost). Favorite essay (by far): "Goodbye to All That." I did so much underlining.
I also listened to this week's episode of Call Your Girlfriend featuring Morgan Jerkins. I was interested in hearing about Morgan's recently published memoir, This Will Be My Undoing, which I'm mentally adding to my TBR pile. Bonus: Morgan has a fabulous laugh.
Other Stuff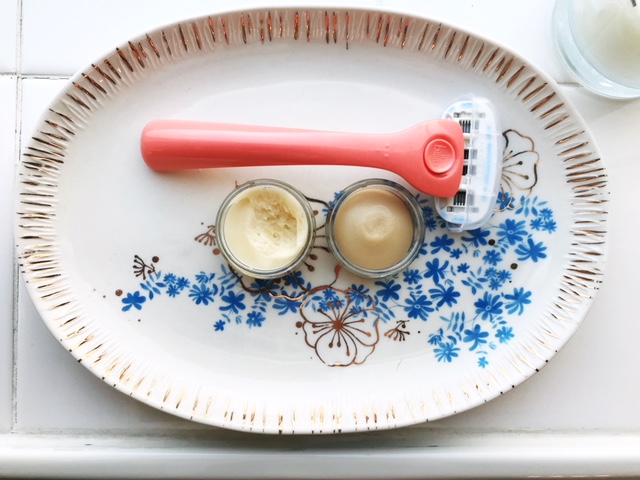 My order of The Ordinary products came in. I've heard good things about their skincare stuff but hadn't done much research. A couple of weeks ago, frustrated with how gross and dry my skin was,  I ordered a few products based on their example regimen for dehydration. After just a couple of uses, my skin looks and feels so much better. I'm particularly loving the moisturizer. I also bought a few things at Target because it was just that kind of week: Smooth Sailing Gentle Resurfacing mask, Burt's Bees conditioning lip scrub and overnight intensive lip treatment. oh, and I have an amazing new Billie razor. Billie is a subscription like Dollar Shave Club for men and really I signed up because the more stuff I can have automatically delivered to my house without me thinking about it, the better, but it's actually a really great razor. I hadn't realized how not great of a shave I was getting with my previous razor.
Something else that arrived in my mailbox like magic: my new caftan from the Dwell + Slumber restock. These were great during the end of my pregnancy and immediately post-partum although right now I'm loving them for sleeping in (with one of my Cake nursing bras).
Food
I don't remember when we ate what, but I made:
The Week Ahead
Holding on for dear life.
Related Posts