Let's play catch up!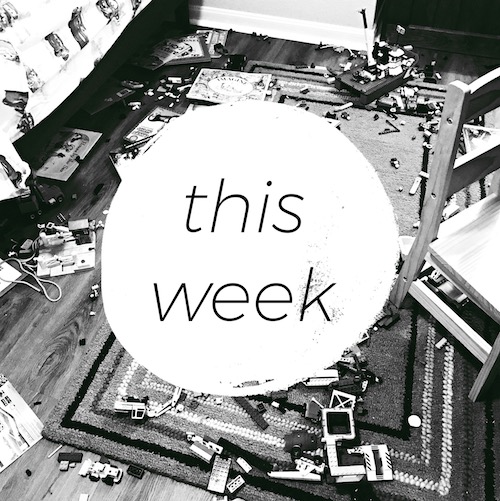 The Boys
My husband was out of town for most of the first full week of February. E is a total daddy's boy and historically has not done super well when he's had to go out of town on business, but he actually handled the week very well. I was pleasantly surprised. This was the first trip my husband has taken since the baby was born (more on that in a minute).
In other surprising E news, his eating habits are improving quite a bit. He used to be an extremely picky eater, to the point of me basically making him a different meal every night and him not eating any vegetables except one flavor of a Happy Baby puree pouch. We did feeding therapy with an occupational therapist for close to a year and got basically nowhere.  It was extremely frustrating and I wondered if I was raising a kid who would one day only eat food that was white or something. But, since his tonsillectomy in August, he's become much more willing to try foods he previously refused, or might only take a bite of. He might not ever be an adventurous eater, but I'm glad he'll at least eat some raw veggies now!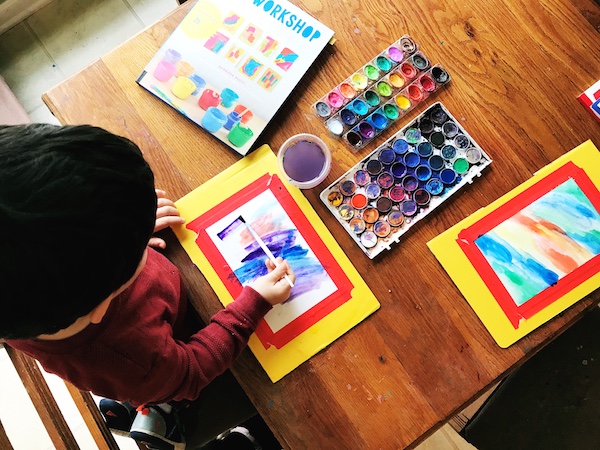 We've started working through Art Workshop for Children, a really terrific book of process art activities. So far, we've done Workshop 1 (photographic evidence above).
L has started teething (my best guess based on the copious amounts of drool) and is still all over the place with naps. He'll usually take 3 naps a day, but their timing and duration are fairly inconsistent. I do always try to get him down for an afternoon nap somewhere between 2:30 and 3:30 after we pick E up from school. He's back to waking up more frequently at night (usually every 3 hours), but since he's pretty good about getting himself to sleep for naps and bedtime, I've decided not to worry about it. Nighttime feeding sessions will be over soon enough, anyway.
Exercise
I managed to get to Stroller Strides exactly once in the two weeks, which is better than none. If I'm being honest, my anxiety has been getting the better of me lately and that makes it difficult to do exactly the things I should be doing to feel better, i.e, getting out of the house and exercising specifically. Baby steps. The weather has been getting a tiny bit better, which always ups my chances of actually making it to a work out, and bribing myself with a coffee afterwards has proven to be very effective.
Reading/Watching/Listening
Solo parenting calls for something light and fun to read. I had Wild Ride by Julie Ann Walker in my TBR pile. I haven't read any of the other books in the series and I'm not sure if I've read anything else by her. It was… okay. I'd give it maybe 3 out of 5 stars. (If you're a romance reader and you haven't read this BuzzFeed article about romance novels and the current political climate in our country, you need to.)
After that, I read Roomies by Christina Lauren which is nothing short of amazing. I didn't want to put it down (or for the book to end), and it's been awhile since I've read something that I've enjoyed that much. It's an utterly delightful love story with wonderfully drawn characters and a few unexpected twists. Honestly, I'll probably re-read it, which is a very rare thing for me to do, but I enjoyed it that much.
This is Us continues to be amazing and sad and wonderful.
I've been binge-listening to Forever35. This is the first podcast that hooked me immediately. I want to be besties with the hosts and just talk about self-care and our nightly skin care routine all the time. Highly recommend if you appreciate a good sheet mask.
Other Stuff
I survived my first week of solo parenting with two. It wasn't the best.
My doula came that Monday and cooked a bunch of food, so I had lunch and dinner already made for the 4 days my husband was gone. We got the laundry folded and put away. I felt so on top of things.
And then nighttime came, and my anxiety got the better of me, and I could not sleep. I think I finally fell asleep around 2 am, probably got woken up once by the baby, and then E was up around 6:30. So that was fun. I tried to take a nap after dropping E off at school, but no luck. By Wednesday morning I'd basically hit a wall… it's hard to come back from so little sleep. I begged my mom to come by on Wednesday afternoon, which she did. I slept decently that night, so Thursday went okay, and then my husband was on his way home. Once I got the kids in bed, I congratulated myself for keeping them alive (almost) single-handedly and ordered myself some presents.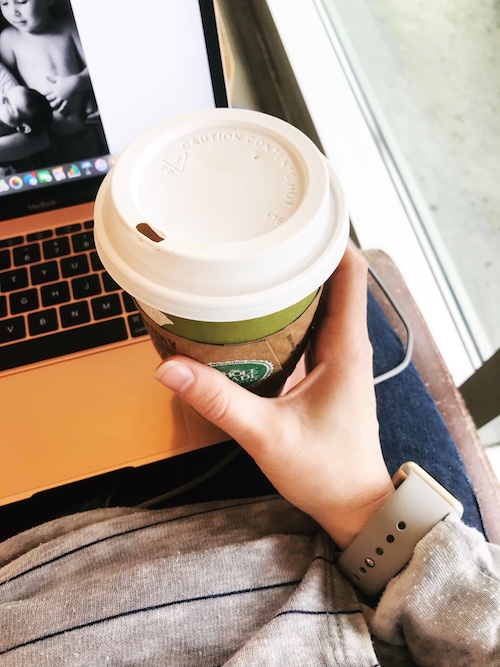 Once my husband was back in town, we celebrated our 10 year dating anniversary with a nice dinner downtown and a Lana Del Rey concert. It was fun, even though it was a late night for a Sunday. He also surprised me with a new MacBook because he's the best and my 5-year-old MacBook Air was basically non-functional.
I finally got going on another knitting project and am making some shorts for L.
Food
Sriracha meatballs – not tired of these yet; my doula made these when she was here and accidentally doubled the amount of sriracha in the sauce. They were so spicy but exactly what I needed since I was battling a cold that week.
Roasted chicken, butternut squash, and guacamole bowl
Vietnamese chicken salad with rice noodles– LOVED this, but I don't think my husband was quite as impressed
Sheet pan teriyaki salmon– Love the idea of a sheet pan dinner, but this was mediocre at best. However, E did eat a whole salmon filet (not super surprising, I gave him canned salmon frequently as a baby, but he hadn't had it in awhile; my husband sold it as "grizzly bear food").
I cooked a few more meals but nothing terribly exciting. A friend also brought us dinner one night which so sweet and super yummy. Tonight we're headed over to our friends' house for pizza (and most likely drinks) while the kids run wild and I'm looking forward to not cooking.
Related: I've been thinking about this meal planning method (hat tip to Katrina for linking to it). I really need to simplify our meals and meal planning, especially now that E is eating more of what we eat. Plus cooking is basically just a means to an end for me; it's not something I enjoy (unlike my older brother, who's a professional chef) and I'd rather use that time/energy for something that brings me joy.
The Week Ahead
Getting out of my own head.
Related Posts