Is winter over yet? Seriously.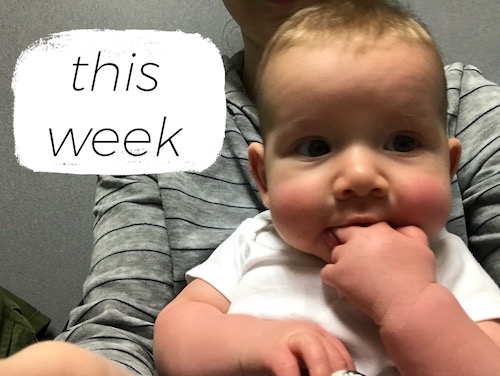 The Boys
E didn't get up to anything new this week. He enjoyed some extra daddy time on Monday since my husband was off of work (though E's school was not closed like I thought it was…), had his weekly playdate with his bestie, and did a few puzzle books. He's having some issues with the actual work part of Montessori, so we're going to be working on that at home. I had always intended to follow Montessori principles with him, and then didn't because I was overwhelmed with learning how to be a mother, let alone figuring out a philosophy and pedagogy that most people don't practice and I had no previous exposure to. And now he's 4 and I really regret not doing what I had intended all along, but, hopefully, it's not too late.
L turned 4 months old and continues to be adorable. We finally made it to the pediatrician, who gave him an A+ and was impressed by how alert and strong he is. We finally had a great night of sleep, with him going to bed around 6:40, waking around 2:30, and then sleeping until 7:30. I wish I hadn't had insomnia and could have slept better the first part of the night, but I did sleep well the second half.
Exercise
Not a good week for exercising.
Reading/Watching/Listening
I read Austin Kleon's posts on the why and how of his diaries and went down a rabbit hole of diaries and note taking and commonplace books, which led me to reread Sarah Manguso's fantastic Ongoingness: The End of a Diary, which is both about motherhood and diary-keeping, and thus completely in my wheelhouse. It's a super quick read that is unexpectedly dense.
I don't think I watched anything this week, although I did turn the TV on once and attempt to find something of interest.
I listened to Vance Joy's new album but I don't think I like it as much as Dream Your Life Away. Maybe it will grow on me.
Other Stuff
My husband was out of town again, which wasn't super fun, though this time he was only gone for two nights and just down the road in San Antonio, so on the whole less stressful than him being in California for a week.
I still didn't sleep, though.
I returned overdue library books, my new notebook arrived (and I'm obsessed), and I went to my PCP for a yearly physical. I still need to go back for a blood draw, which was my primary reason for making the appointment, since I don't feel healthy at all and want to reevaluate my vitamins and supplements.
Food
I honestly don't remember what we ate last week, but I do remember making these sweet potato and black bean burrito bowls (I didn't care for the dressing so probably wouldn't make again) and these cold sesame noodle bowls (I didn't worry about the spaghetti, used cashew butter because that's what I had in the pantry, and did chicken instead of chickpeas).
The Week Ahead
Channeling Maria Montessori.
Related Posts