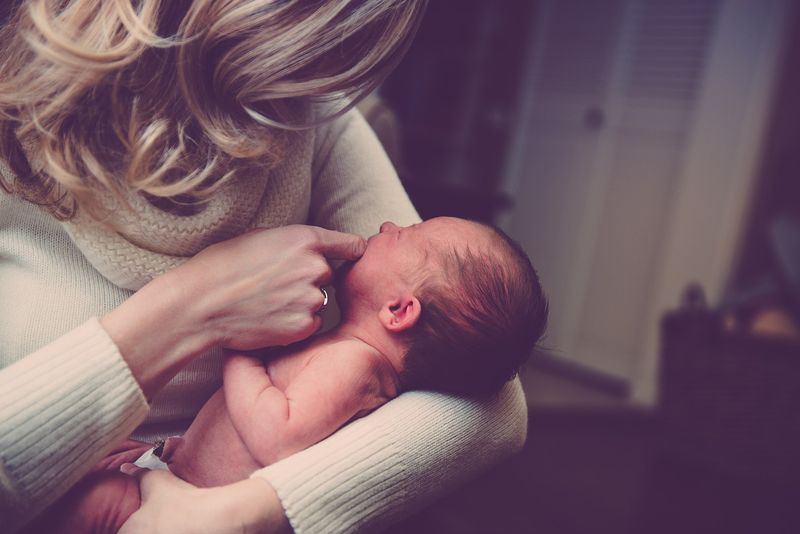 Having a baby is a lot like being thrown to a pack of wolves: pure survival mode. Everything is uncharted territory while you get to know this tiny human you're tasked with keeping alive, and your daily to-do list is reduced to the bare minimum of eating, sleeping, and making sure you're both (somewhat) clean. But sooner or later, life with this brand new little person becomes routine, and you might look up and realize your life has become a dull, never-ending cycle of naps, grocery store runs, and laundry. In short, you've found yourself bored with motherhood. It can be disheartening, especially for a mama who previously fancied herself an interesting, well-rounded individual. But never fear! There are plenty of simple ways you can bust out of this rut and put a little pep back in your step.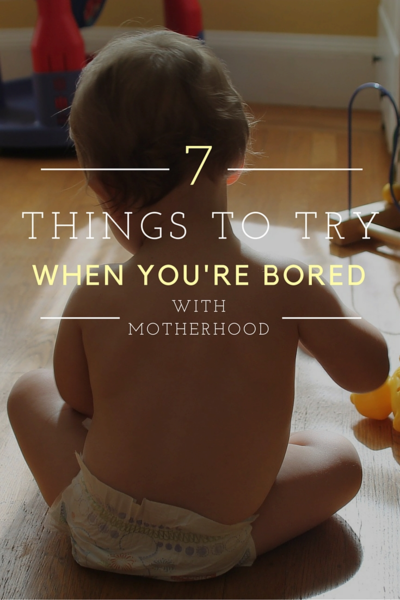 Bored with Motherhood? 7 Things to Try
Get sweaty.
Love it or hate it, exercise is good for you. Aside from the obvious reasons for working out (burning calories, toning muscles that got a little flabby during pregnancy), those endorphins can't be beat for making you feel like you could kick some serious ass and take on the world. I swear by Fit4Mom (and really great option for mamas who are ready to work out but not ready to leave baby in the care of someone else), but a Y membership is also affordable and usually comes with childcare. Can't leave your house? There are tons of exercise videos on YouTube.
Find your tribe.
Being around other moms who are in this same season of life can be very uplifting and energizing. If you're not blessed with a group of friends who all had children around the same time, you might have to do a little leg work to find your tribe. Join MOPS or MOMS club, or find other local groups of like-minded parents on Facebook (Babywearing International, Hike It Baby, and a free forest school all have large, active groups in my neck of the woods) or meetup.com
Get out of the house.
Pretty much every SAHM/WAHM I've met swears by getting out of the house once a day. Again, Fit4Mom is perfect for this, but you can also look into some classes or memberships that are appropriate for your baby or kiddos. Swimming, Music Together, Gymboree, Little Gym, children's museum, zoo, aquarium, story time (not just at the public library, many bookstores and toy stores have weekly events, too) are all great options for infants to preschoolers. It's easy to spend a fortune on classes and memberships, but there are probably a ton of free events in your area, too.
Switch up your routine. 
It sounds silly, but even shopping at a different grocery store can feel new and different. You might even discover that you spend less time or money shopping at a new store versus your previous go-t0.
Squeeze in some pampering.
Schedule a pedicure, pick up a face mask and new nail polish on one of your thrice-weekly Target runs (don't tell me I'm the only one that ends up there more than once a week), even taking 30 seconds to slather on some night cream can help you feel so much better about yourself.
Give yourself permission to be creative.
A creative challenge can be good for your soul, too. If you have a hobby that you've largely abandoned since becoming a mom, jump back into it. Or pick up an entirely new hobby. Let's face it, some hobbies just aren't very compatible with parenthood, particularly if it involves leaving the house. If you're looking for something cheap, easy, and totally relaxing, try an adult coloring book. Pairs nicely with a podcast or audiobook.
Workout your brain.
Motherhood certainly does a great job of turning your brain to mush. Want to feel smart and up-to-date again? Grab a book of crossword puzzles, Sudoku or logic puzzles (I always hated math, but I did love logic puzzles!) and start forging new neural pathways to replace the ones your kid destroyed. They're also strangely relaxing and gives you a chance to use a different part of your brain (you know, the part that doesn't calculate how little sleep you got last night). Read a book off the current best-seller list or grab a news magazine (The Week is my favorite).
Related Posts