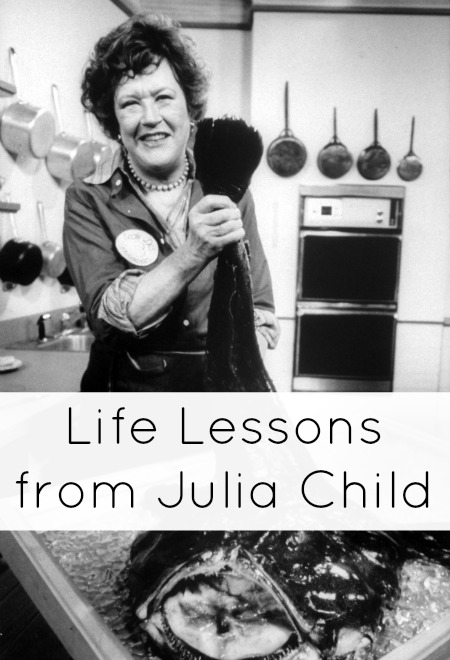 I finished up Dearie: The Remarkable Life of Julia Child last week, somewhere between Texas and Tokyo. I found myself tearing up at the end, even though I should have expected the book to end with her death (how else do you end the biography of someone who is deceased?). It's a hefty tome (I opted to buy a copy for my nook) but extremely well-written and overall a delicious read.
By all accounts, Julia Child's life was, well, remarkable. I was in awe of the career she created for herself. As I approached the end of the book (and her life), I started to think about what "life lessons" Julia could impart.

Julia Child didn't even start cooking until she was 32. She started teaching (informally) at 39. Despite a somewhat late start in discovering her passion, she transformed it into an incredibly successful career. It's easy to assume we won't succeed at something because we haven't been doing it since age 7 or weren't an "early adopter" (I feel that way about blogging sometimes). While there is some truth to that (see: Outliers by Malcolm Gladwell), I think Julia's staggering accomplishments show that's not always the case. Sometimes it is true passion that makes the difference.

Her first cookbook, what became Mastering the Art of French Cooking, was the result of ten long years of work. Julia tested recipes over and over again to make sure they were perfect and left no room for error. I'm sure she might have been tempted to just give up at some point- she was working herself to the bone and sometimes wondered if the cookbook would ever be complete. However, she truly believed in her end goal: to bring French cooking to America. And it worked.

When her husband (and best friend) suffered a debilitating stroke and began to require more of her attention and energy, Julia found a way to make it work (I think Tim Gunn would approve). She could have grudgingly accepted her need to be a caregiver and abandoned the career she wasn't ready to give up, but she didn't. She knew that self-pity wasn't going to help her career or restore her husband's health. Instead, she figured out how to get her husband around their house on his own and enlisted friends to work with her on the TV show and her current cookbook.

Julia is said to have "felt like a teenager" when she was working. She didn't want to give it up, even as she drifted into her 80s. It provided solace when her husband became ill, expanded her social circle (she enjoyed spending time with her younger assistants), and certainly kept her young– let's face it, most people don't live to be 92 or work well into our late 80s.

Julia hated it when women apologized for dinner not being ready on time or not being perfect. She felt it ruined the social aspect of a good meal. In fact, she herself served inedible meals and didn't apologize. If something doesn't work out as you had planned, pick up the pieces and move on. But don't apologize.

Her director and long-time friend Russ Morash is quoted in the book as saying, "Moving ahead was how she dealt with life." Even if one of her projects was not well-recieved (and there were a few that weren't), she didn't dwell on it or get discouraged from trying something else. What would be the point in that? We can't all be 100% all the time. It should always be about today, tomorrow and the next big thing you are going to accomplish. Even if one project is a flop, it doesn't mean the next one won't be a raging success.

Julia was 6'2″, had a warbly voice and wasn't conventionally pretty. You'd think that all of these would preclude a successful TV career, but her approachability  actually made her career. Her viewers identified with her, which was pretty critical when you're trying to convince people that they, too, can master French cooking. If you feel you have a weakness, think of a way to spin it to your advantage.